APPETIZERS


BONNIE'S YOM TOV CHALLAH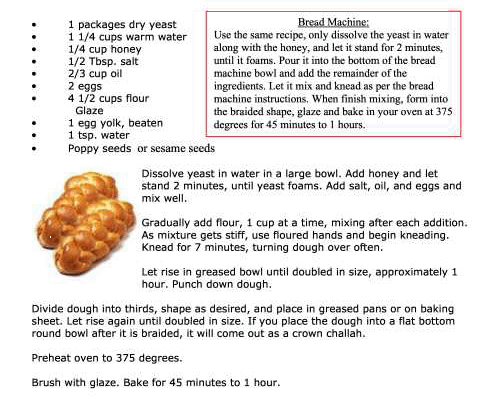 ---
CHOPPED LIVER
INGREDIENTS
1 lb. chicken livers cooked
3 large onions chopped
4 hard boiled eggs
1/4 cup of olive oil
salt and pepper

PREPARATION
Chop onions and saute in oil until brown but not burned.
Boil up eggs in pot of water for at least 20 minutes or more. Add chicken livers to pan of onions and saute until cooked through.
Cool chicken livers and onions by leaving them in the pan for a few minutes after cooking. Add chicken livers and onions to food processor and coarsely chop. Do not turn it into a paste.
Add grated eggs, salt and pepper to taste.
Place in plastic container and refrigerate for three hours.
Enjoy!


---
ROASTED GARLIC, PARSNIP AND WHITE BEAN SOUP
INGREDIENTS
1 lb parsnips peeled (about 4)
4 large cloves of garlic left whole, skin intact
1 onion cut on a grater rough pieces
1 tbsp. dried whole or fresh Rosemary
1 can (15 oz.) white beans drained and rinsed
6 cups vegetable broth, no salt added
1 tbsp. lemon juice
Ground pepper to taste
1/2 tsp sea salt
2 tbsp. extra virgin olive oil
Pumpkin seeds to serve
Water as needed

PREPARATION
Preheat oven to 400ºF. On a large rimmed baking sheet, toss garlic, parsnips, onion, oil, rosemary, salt (to taste), and pepper. Roast for 45 to 55 minutes, until garlic and parsnips are tender and turning golden. Once cool enough to handle, squeeze garlic from skins into a blender, along with roasted vegetables, beans, water or broth, and lemon juice (this may need to be done in 2 batches); purée until smooth, adding more water or broth if too thick (depends on dryness of parsnips).
Alternatively, add ingredients to a large pot and purée with an immersion blender.
Transfer blended soup to a large pot. Heat over medium, stirring frequently so bottom doesn't scorch. Season with additional salt, if desired. Serve hot with a sprinkle of pumpkin seeds and drizzle of olive oil.
- STEWART INDIG

Go to top


---
CURRIED SQUASH SOUP
INGREDIENTS
1 large butternut or buttercup squash
1 large onion
2 zucchini
1/4 lb. mushrooms
2 tbsp. curry powder
8 cups chicken stock (water with 8 tsp. instant chicken stock powder)
1/2 tsp. salt

PREPARATION
Cut squash in half, place cut down in bowl with a little water and microwave for about 8-10 minutes on high.
Scoop out flesh and discard skin. Chop onion. Slice zucchini and mushrooms. Place all the vegetables in a large pot (squash included) and chicken stock, curry and salt.
Cooked until vegetables are tender. Puree and adjust seasonings to taste.

I hope you enjoy the soup and stay warm.
- STEWART INDIG

Go to top


---
SPINACH DIP IN PUMPERNICKEL BREAD
INGREDIENTS
1 large round pumpernickel or Black Bread
2 packages chopped frozen spinach, thawed and drained
1 cup of sour cream or plain yogurt
2 cups of mayonnaise
1 package of Knorr Swiss Vegetable Soup

PREPARATION
Slice off top of bread. 
Cut the inside out of the bread. 
Cut into cubes.
Mix all other ingredients together.
Put the mixture inside the hollowed bread. 
Surround pieces of bread around the large bread.
Refrigerate and then serve.

Enjoy the dip and your summer.
- STEWART INDIG

Go to top


---
CHOPPED HERRING
INGREDIENTS
1 jar of Herring tidbits (Mrs. Whyte's, Feature) include onions and liquid
2 hard-boiled eggs
I medium apple grated
1 slice of white bread

PREPARATION
Combine all the ingredients in a food processor and blend until smooth. Great to serve as an appetizer or starter.
For Passover, substitute the bread for a board of matzo. To make it look real fancy (for the important company) grate a little hard-boiled egg yolk on top.
Delicious!
- STEWART INDIG

Go to top


---
---
MAINS


EASY BREADED CHICKEN
INGREDIENTS
Skinless, boneless chicken breasts
1-cup Italian-style salad dressing
2 cups seasoned bread crumbs

PREPARATION
Pour salad dressing into a large, resealable bag. Add chicken breasts, seal bag and shake to coat. Place in refrigerator for a least one hour (the longer you marinate the more taste the chicken will absorb.)
Preheat the oven to 350 degrees.
Remove chicken from bag, discarding remaining marinade. Coat chicken breasts with breadcrumbs.
Place coated chicken breasts in a lightly greased baking dish and bake for about 30 minutes or until chicken is cooked through and juices run clear.

NOTE: Recipe can be made with an entire chicken if desired. If doing so, increase cooking time to about 60 minutes or until chicken is cooked through.

Go to top


---
ONION SOUP MEATLOAF
INGREDIENTS
2 eggs, beaten
1/3 cup ketchup
¾ cup water
1 packet dry onion soup mix
11/2 cups bread crumbs
2 lbs. lean ground beef

PREPARATIONS
Combine eggs, ketchup, water, and soup mix and mix well.
Add bread crumbs and beef and mix well.
Shape into loaf and place in a shallow pan or loaf pan.
Bake at 350 for about 75 minutes.

Go to top


---
5-INGREDIENT EASY CHILI
INGREDIENTS
1 lb. ground beef or turkey*
1 small white onion, diced
3 (15 oz.) cans diced tomatoes with green chiles
2 (15 oz.) cans beans, drained (black beans, kidney beans, a combo, or whatever you like)
2 Tbsp. chili powder

PREPARATION
In a large stockpot, cook ground beef or turkey over medium-high heat until browned, stirring frequently.  Using a slotted spoon, transfer the cooked beef or turkey to a separate plate and set aside.  Reserve 1 tablespoon of grease in the stockpot, and discard the rest.
Add the onion to the stockpot and saute for 4-5 minutes, or until soft.
Add remaining ingredients and the cooked beef or turkey to the stockpot, and stir to combine. Bring to a boil, then reduce heat to medium-low, cover, and simmer for 10 minutes.
Serve immediately, garnished with optional toppings if desired.  Or, store in a sealed container for up to 3 days.
*If using ground turkey, you may need to heat a tablespoon of olive oil beforehand to help cook and brown the turkey, and then add an additional tablespoon of oil to cook the onion.
https://www.gimmesomeoven.com/5-ingredient-easy-chili-recipe/

Go to top


---
CHICKEN IN TOMATO MUSHROOM SAUCE
INGREDIENTS
Chicken breasts (or any part of the chicken)
Seasoned Corn Flake crumbs (bread crumbs also work)
1 onion
1 can Tomato Mushroom Sauce
Flour
1 egg, beaten

PREPARATION
Dip chicken pieces in flour, then egg. Coat with the crumbs.
Fry up your onions in a little oil til they are nice and brown.
Place chicken pieces in the oil to get them a beautiful golden colour.
Once all chicken is browned, place in a baking dish and pour on the sauce.
Cover and bake for 50-60 minutes.
Remove, eat and enjoy.
NOTE: Recipe is equally delicious with any type of sauce or even without. In that case, drizzle the chicken with a little olive oil.
- JEFF ROSEN

Go to top


---
BAKED FISH SANDWICHES
Can be prepared ahead of time.

INGREDIENTS
2-4 pieces sole
Olive oil
1 stalk celery
Mayonnaise
Dash of Hot Sauce
Hot Dog Buns or Bread

PREPARATION
Place a few pieces of sole in a dish and drizzle olive oil over it.
Bake approximately 20-25 minutes, turning once.
Be sure to check to ensure fish does not burn.
Let fish cool.
In the meantime, chop up one stalk of celery.
Chop up fish and mix with mayonnaise and hot sauce.
Refrigerate.
Spoon fish mixture on bread and serve.
- STEWART INDIG

Go to top


---
CATHY'S CRISPY CHICKEN
INGREDIENTS
Chicken
2 lbs. boneless white or dark meat
1 bag of kettle cooked potato chips

Marinade
3/4 cup mayonnaise
2 tbsps. honey
2 tsps. Kosher salt
1 tsp garlic powder
1/2 tsp paprika

PREPARATION
Preheat oven to 350 degrees.
In a small bowl stir together the mayo, honey, salt, garlic, and paprika.
Crush the potato chips in a food processor using pulse (on and off). Dip the chicken in the marinade.
Coat with the chip crumbs.
Line a baking sheet with parchment paper.
Place coated chicken on sheet.
Bake for approx. 45 minutes or until ready.
Cathy has used regular chips as well. Works great!
Enjoy!
- STEWART INDIG

Go to top


---
TILAPIA WITH SPINACH PECAN PESTO
INGREDIENTS
Pesto
3 cups baby spinach leaves, packed, about 3 ounces
1/4 cup of olive oil
1/2 cup pecan halves
1/3 cup fresh shredded Parmesan cheese
2 medium cloves of garlic, smashed and minced
1/4 teaspoon of salt

Tilapia
2 to 3 cups baby spinach leaves packed
6-8 tilapia fillets
Salt and freshly ground pepper

PREPARATION
Easy to make, great to eat. Lightly spray a 9 x 13 inch baking dish. Heat oven to 400 degrees.
In a food processor, pulse the three cups of spinach leaves, olive oil, pecan halves, Parmesan cheese, garlic, and 1/4 teaspoon salt until the mixture is a fine consistency. Arrange the remaining spinach leaves over the bottom of the baking dish. Place a tilapia fillet on the bed of spinach and put about 1 tablespoon of the pesto mixture on the fillet. Spread lightly to cover the entire fillet. Repeat with the remaining fillets. It is ok to overlap fish slightly.
Bake for 20 minutes or until tilapia flakes easily with a fork. Serve with cooked rice, pasta or even salad.
Chilled white wine would go great.
Enjoy!
- STEWART INDIG

Go to top


---
SWEET BRISKET
---
CRISP BAKED WINGS WITH DUCK SAUCE
INGREDIENTS
garlic powder
paprika pepper
Duck sauce, about half a jar or less

PREPARATION
Rub the chicken wings generously with the seasonings and bake in oven at 350F for an hour. Cover with foil for about thirty minutes while baking, and then uncover to make them crispy. Pour duck sauce on top of chicken wings and bake for another 30 minutes, making sure they are getting crisp. Baste the chicken occasionally. Remove from oven, and enjoy!

Go to top


---
---
SIDE DISHES


LOW FAT POTATO LATKES
INGREDIENTS
1 lb Idaho or russet potatoes scrubbed but NOT peeled
1/4 cup chopped onions
3 large egg whites
1/2 tsp salt
1/4 tsp pepper
1 tbsp. flour
3-4 tbsps. Olive oil

PREPARATION
Preheat oven to 350 degrees.
Grate the potatoes.
Transfer the potatoes to a colander to drain. Rinse well in cold water to remove starch and the potatoes will turn white again.
Drain very well.
Place the potatoes, onion, egg whites, seasonings and flour into a medium bowl.
Stir well to combine.
Cover with plastic wrap and let it sit for 15 minutes.
Spray a baking sheet with spray.
Add 2 tbsps. oil in a large fry pan over high heat.
Stir the potato mixture and working in batches drop the mixture by spoonfuls into the hot skillet and shape into circles.
Let the latkes brown and then turn over.
Place the latkes on a cookie sheet.
Bake latkes, uncovered for 15-20 minutes.
- STEWART INDIG

Go to top


---
BUTTERNUT SQUASH KUGEL
INGREDIENTS
1 kg frozen or fresh (cooked) butternut squash
6 eggs
1 cup sugar
1 cup flour
750 ml non-dairy creamer
1 tbsp margarine
1 tsp vanilla

PREPARATION
Mash butternut squash. Mix all other ingredients and add to butternut.
It will be very liquidy so do not worry. Pour into a 9 x12 Pyrex.
Sprinkle with cinnamon.
Bake @ 350 degrees for one hour.
Enjoy it. It is one of my favourite kugels.
- STEWART INDIG

Go to top


---
SWEET POTATO PANCAKES
INGREDIENTS
2 large cooked sweet potatoes, mashed
2 eggs, beaten
2 carrots, grated and lightly steamed
1 large zucchini, grated
6 tbsp. flour
3/4 tsp. salt
1/4 cup olive oil

PREPARATION
1. Mix all ingredients except oil.
2. In non-stick large skillet, heat olive oil over low heat for 2 minutes.
3. Drop 2- tablespoons of the sweet potato mixture into hot oil. Use spatula to flatten pancakes slightly.
4. Cook each pancake for 3-4 minutes until golden brown. Flip and cook for another 1-2 minutes. Test for doneness.
5. Serve immediately or keep warm and crunchy in a 250 degree oven.

Go to top


---
SWEEET POTATO TZIMMIS
INGREDIENTS
5 large sweet potatoes, peeled, cut in chunks, and cooked
4 large carrots, peeled, cut in chunks, and cooked
1 c. pitted prunes, chopped
1/2 tsp. ground cinnamon
1/3 cup honey
2 tbsp. melted margarine
1/8 tsp. ground pepper
Salt, to taste
Orange juice, optional
2 or 3 apples, peeled and sliced

PREPARATION
Mash sweet potatoes and carrots.
Mix in the prunes.
Add cinnamon, salt, and pepper.
Combine honey and margarine.
Grease a 2-quart casserole dish.
Alternate layers of mashed seasoned vegetables and apples, dribbling honey (and juice) mixture over each layer. End with vegetable layer.
Bake at 350 degrees for about 45 minutes.


Go to top


---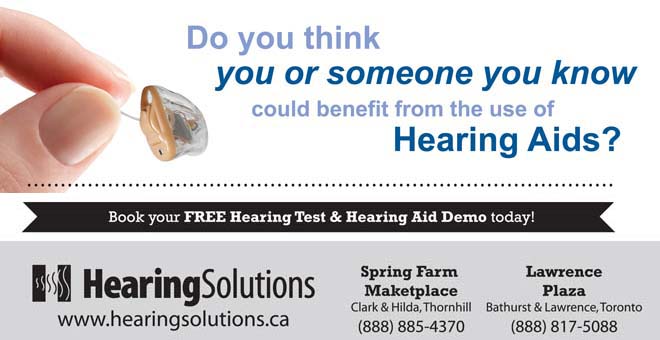 ---
DESSERTS


BLINTZ SOUFLE
INGREDIENTS
6 eggs
1/3 cup of white sugar
1/4 cup butter softened
1 1/2 cups sour cream or yogurt
1/2 cup orange juice
1 cup of flour
2 tsps. Baking powder
8 oz. cream cheese softened
2 cups of cottage cheese
1 egg
1 tsp. vanilla

PREPARATION
Preheat oven to 350
Grease a 9x13 Pyrex dish
In a food processor, mix the 6 eggs, sugar, butter, sour cream, orange juice, floor, and baking soda
Pour half of the batter into prepared dish
Mix together cream cheese, cottage cheese, the egg and vanilla
Pour over batter
Top with the remaining batter
Bake for 50-60 minutes

Notes: You can serve topped with sour cream or berries (fresh or frozen) that have been cooked with some sugar. If too liquidy, mix together 1 tsp. cornstarch and a bit of water to make a paste. Add to berries and cook until thick.
- STEWART INDIG

Go to top


---
CHOCOLATE RASPBERRY CRUMB BARS
INGREDIENTS
1 cup unsalted butter (room temperature)
2 cups all-purpose flour
1/2 cup brown sugar
1/4 tsp salt
2 cups semi-sweet chocolate chips
1 14 oz tin sweetened condensed milk
1/3 cup seedless raspberry jam (preserves)

PREPARATION
Preheat oven to 350 degrees. Spray 9 x 13 Pyrex with Pam and line with parchment paper. In a large bowl cream together the butter and sugar. Add the flour and salt. Mix together until crumbly. Press 3/4 of mixture into the bottom of the Pyrex. Bake for 12 minutes. In the meanwhile, mix 1-cup chocolate chips and condensed milk. Microwave until melted. Pour over baked crust.
Sprinkle with remaining crumbs. Cover with remaining chocolate chips. Dot with the raspberry jam. Bake 25-30 minutes. Makes 16 servings.
A great recipe. Please enjoy. I know our guests do. It's hard to eat just one!
- STEWART INDIG

Go to top


---
LIGHT LEMON SQUARES
INGREDIENTS
Base
2 cups flour
1/2 cup of sugar
1/2 cup soft margarine
1/4 cup plain yogurt

Topping
11/2 cup sugar
1/4 cup flour
1 tsp baking powder
1/2 tsp salt
2 eggs
2 egg whites
1/2 cup lemon juice

PREPARATION
Mix base ingredients
Press into greased 9x12 Pyrex
Bake at 325 degrees for 25 minutes
Combine all topping ingredients
Pour over base
Bake 30 minutes
When cool sprinkle with icing sugar (if desired)
Enjoy!
- STEWART INDIG

Go to top


---
APPLE COBBLER, LITTLE SUGAR
INGREDIENTS
4 apples, peeled and chopped
1-cup water
2 tsps. cinnamon
2 tbsps. cornstarch
1/4 cup fructose or sugar
1 cup flour
1 tsp. baking powder
1/4 cup oil
1 tbsp. honey
1/2 cup buttermilk

PREPARATION
Preheat oven 375
Spray an 8x8 Pyrex dish
Combine apples, water, cinnamon, cornstarch, and sugar
Cook until soft and thick
Pour into dish
Mix flour, and baking powder.
Add oil and stir
Add honey and buttermilk
Drop by tablespoon full over apple mixture
Bake 20 minutes
Great to serve warm with a bit of vanilla ice cream on the side.  
Enjoy!
- STEWART INDIG

Go to top


---
CARNIVAL'S MELTING CAKE
INGREDIENTS
8 oz. semi-sweet chocolate
1 cup of butter
7 eggs
6 tbsps. sugar
1/2 cup flour

PREPARATION
Melt chocolate and butter.
Mix 4 eggs with the sugar.
Wisk for a few minutes.
Add the flour.
Add the remaining 3 eggs
Add the egg mixture to the chocolate mixture.
Pour the mixture into greased ramekin bowls.
Bake at 375 degrees for 15-20 minutes.
Serve warm/hot.

Carnival tops it with a bit of icing sugar and serves it with a bit of vanilla ice cream on the side. It is absolutely delicious. To make it gluten-free omit the flour. Makes 6-8 depending on the amount you put in the ramekin bowl. It is not a lot of sugar but if you want it sugar free, try substituting the sugar with sweetener.
Enjoy.
- STEWART INDIG

Go to top


---
PASSOVER BROWNIES
INGREDIENTS
2 eggs
1/2 cup sugar or sugar substitute to equal 1/2 cup sugar
1/2 cup peanut oil
6 tablespoons cake meal
2 tablespoons potato starch
2 tablespoons water
2 tablespoons unsweetened cocoa

PREPARATION
Preheat oven to 365 degrees. Spray a 9 x 9 pan with non-stick spray such as Pam.
In a medium bowl, beat the eggs until light and fluffy. Add sugar, sugar substitute, and oil and beat again. Beat in cake meal, potato starch, water and cocoa. Pour mixture into the prepared pan.
Bake at 350 degrees for 20 to 25 minutes. DO NOT over bake. Brownies will appear light on top. Remove from oven and cut into bars immediately.
Makes 24 and they are 80 calories each!
Did you notice that everything was made and mixed in one bowl? It is not only great but and easy cleanup as well.
Enjoy!
- STEWART INDIG

Go to top


---
DOUBLE CHOCOLATE MOUSSE
INGREDIENTS
11/2 cups skim milk
2 squares of Baker's semi-sweet chocolate (or any brand of your choosing)
1 pkg of fat free instant chocolate pudding (we use Jello Brand)
1 cup plus 2 tbsps. thawed light Cool Whip

PREPARATION
Pour 1 cup of milk into a large microwavable bowl
Add chocolate squares
Microwave on medium power for 2 minutes or until chocolate is melted
Stir in remaining milk
Add dry pudding
Beat with wire wisk for 2 minutes or until well blended
Refrigerate for 20 minutes
Gently stir in 1 cup of cool whip
Spoon into 6 dessert bowls. (We like using fine china tea cups.)
Refrigerate
When ready to serve, top with remaining Cool Whip
The fine china tea cups give it a more elegant look.
Enjoy!
- STEWART INDIG

Go to top


---
THE "BEST EVER" PASSOVER BROWNIES
INGREDIENTS
5 eggs
2 1/2 cups white sugar
1 1/4 cup vegetable oil
1 1/4 cup matzo cake meal
1 1/2 cups unsweetened cocoa powder
1 1/4 cups chopped walnuts

PREPARATION
1. Beat eggs and sugar. Add oil. Mix in cake meal and cocoa. Add nuts (or use as a topping).
2. Bake in a greased 9 x 13 inch pan at 325 degrees F for 35 minutes.
The secret to moist brownies, Pesach or otherwise, is to under bake them. Check them at 30 minutes.
I also put nuts on top rather than in the brownies for two reasons: They make the top look good without having to frost them and, for those who don't or can't eat nuts, they are easily removed without having to search for them.
Happy Passover.
- STEWART INDIG

Go to top


---
SPICED PEANUT BUTTER COOKIES
INGREDIENTS
1/2 cup canned chickpeas, NOT drained*
16 tbsp. reduced fat peanut butter, creamy variety
1/4 cup regular butter softened
3/4 cup packed light brown sugar
1 tsp. vanilla extract
1 large egg
1 cup whole wheat flour
1/2 tsp. table salt
1/2 tsp. baking soda
1/4 tsp. red pepper flakes, more if you want them spicier

PREPARATION
Preheat oven to 350 degrees. Line two large cookie sheets with parchment paper (or coat with cooking spray).
Set aside.
* Pour chickpeas into a 1-cup measuring cup and pour in enough chickpea liquid just to cover beans. Puree chickpeas and their liquid in a blender or food processor.
In a large bowl with an electric mixer, cream peanut butter, butter and sugar until light and fluffy. Add vanilla and egg. Mix well again. Add pureed chickpeas and blend thoroughly with mixer. Add flour, salt, baking soda and red pepper flakes. Mix again.
Shape rounded tablespoons full of cookie dough into small balls. Place dough on prepared cookie sheets, leaving at least 2 inches between cookies.
When a cookie sheet is filled, press each ball down with the palm of your hand to flatten. Then flatten cookies even more by making crosshatch marks with back of fork.
Bake until cookies turn slightly golden (about 12 to 15 minutes). Let cool on cookie sheet for 1 to 2 minutes and then remove.
These large peanutty cookies not only taste great, they also pack a fibre and protein punch. The recipe should yield 30 cookies.
Enjoy!
- STEWART INDIG

Go to top


---
CATHY'S (MY WIFE) "FAMOUS" CHOCOLATE CHIP COOKIES
INGREDIENTS
1 cup white sugar
1 cup brown sugar
1 1/3 cup butter
2 eggs
3 1/2 cups of flour
1 tsp. baking soda
1 tsp. salt
12 oz. chocolate chips

PREPARATION
Preheat oven to 375 degrees. Line two large cookie sheets with parchment paper.
Shape rounded tablespoons of cookie dough into small balls. Place dough onto cookie sheets leaving at least 2 inches between cookies. Bake for 8 mins.
This is Cathy's recipe so for copyright reasons she must be given credit whenever they are served!
Enjoy!
- STEWART INDIG

Go to top


---
LOW FAT BLUEBERRY MUFFINS
INGREDIENTS
1 3/4 cups flour
2 teaspoons baking powder
1/4 teaspoon salt
3/4 cup of skim milk
1/3 cup sugar
1/4 cup oil
2 teaspoons lemon or orange rind
1-teaspoon vanilla
1 large egg beaten
1-cup blueberries

PREPARATION
Combine all the dry ingredients and mix well.
Then, combine the rest of the ingredients BUT the blueberries.
Mix it all together well.
Fold in blueberries.
Place into a muffin tin.
Bake for 20 mins at 400 degrees.
Each muffin is approx. 50 calories.
Enjoy!
- STEWART INDIG

Go to top


---
TAL'S COCONUT CAKE
INGREDIENTS
3 eggs
1 1/2 cups brown sugar (could use white)
1/2 cup of regular cooking oil
1 tsp vanilla extract
1 cup of self rising flour
100 grams unsweetened coconut flakes
3-4 spoons of sour cream

PREPARATION
Preheat oven to 350 degrees.
Mix the eggs and sugar until you get a smooth and fluffy mixture.
Add each ingredient one at a time and keep mixing well after you add another ingredient to the mixture.
Oil a baking pan ( a bundt or something round works nice).
Bake for 45 minutes.
Let cool and enjoy.
- STEWART INDIG

Go to top


---
BEST EVER "GLUTEN FREE" CHOCOLATE CAKE
  INGREDIENTS
1 1/2 cups sugar
1/2 cup unsweetened cocoa powder
2 tbsps. cornstarch or potato starch
3/4 tsp. baking powder
1/4 tsp. salt
 1 1/2 cup chickpeas, rinsed and drained (it is NOT a full can, but almost)
4 eggs
2 tsp. vanilla

PREPARATION
Preheat oven to 350.
Line a 9 inch round cake plate with parchment paper on bottom. (make sure it is exactly 9 inches) The round cake pans that you make into a 2-layer cake are the right size.
Spray bottom and sides.
In food processor mix sugar, baking powder, baking soda, cornstarch for 12 seconds.
Empty into bowl.
Process chickpeas for 30 seconds; add eggs, vanilla, and mix for 1 minute.
Add cocoa mixture and mix for 30 seconds.
Bake for 50-55 minutes.
Cool for ten minutes and remove from pan.
When cool ice with desired chocolate frosting. I melt a bit of butter, add cocoa to make a paste then add icing sugar and a bit of milk.
Sprinkle with icing sugar.
Oh so good!
 Enjoy!
- STEWART INDIG

Go to top


---
CHEESECAKE CRUST
---