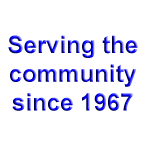 To paraphrase a well-known English playwright, "To rain or not to rain, that is the question." Well, it was definitely the question on everyone's minds as Forestdale Heights Lodge held its ever-popular summer BBQ on July 9.
Once again, Stewart and Cathy Indig were our gracious hosts, setting up, not just their backyard, but their living room in case the skies opened up and it started to rain. However, despite cloudy skies at the start of the festivities, we were spared one of this season's torential downpours. We had a great turnout this year, with 17 Lodge members, spouses and a few friends of FHL coming together for a night of good food, friendship and commaraderie.
By the time Lisa and I arrived at 5:30, the party had already begun and everyone's favourite, BBQ salami, was coming off the grill. We also got to enjoy veggies and dip and Cathy's famous "punch".
The shmoozing continued until, after 6:00 p.m., when it was suggested our celebrity chefs, Stewart and Harvey Silver, start dinner. Taking every precaution against the uncertan elements, the hamburgers, hot dogs and salmon burgers were expertly cooked and wisked away to the Indig kitchen. By the time the food was ready, everyone was accounted for and we headed inside to pick up our dinner, before settling down in the backyard.
Of course, there was also potato salad and other side dishes among the offerings. Desserts were from our June installation.
Special thanks go to Stewart, Cathy, Harvey and Debbi Silver for ensuring another successful BBQ and to the Indigs for generously giving their home for the occasion. It was a fun programme, enjoyed by all in attendance.
In the end, a few drops of rain heralded the end of the evening, as everyone started to make their way inside, before heading home.
Jeff Rosen